Home

Society and Citizenship

Projects

Digital Cities and Digital Regions
Digital Cities and Digital Regions
24 Digital Cities and Digital Regions projects were in progress in early 2005. 7 new projects have since been approved (Vale do Minho Digital, Valimar Digital, Vale do Ave Digital, Guarda Digital and Coimbra Digital, Tâmega Digital and Metropolis Digital, the latter being in the Greater Porto area).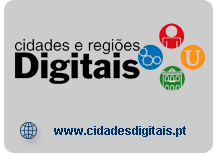 Together, and including the finished Trás-os-Montes Digital project, these 33 projects cover 287 of the country's 308 municipalities and cover roughly 95% of the entire national territory.
With a total investment of over 200 million Euros, the Digital Cities and Digital Regions projects entail e-government solutions for local government, conditions to beef up the competitiveness of small and medium-sized enterprises and a wide array of citizen-centred services, such as information, health and safety, social support, education, culture, etc.
The Digital Cities and Digital Regions projects are a crucial component in mobilizing ICT use in society by diversifying players and involving people and bodies from various areas of the country in specific actions that address the local reality. They stimulate the development of new capacities, they create job opportunities through cooperation and they champion social ownership of ICT and Internet use among segments of the population throughout the country. They are therefore an important agent in the economic and social development of the country's cities and regions and for fighting traditional regional imbalances through using new technologies well.
However, the Digital Cities and Digital Regions projects are above all a powerful tool for mobilising local players in the Information Society, countering the magnetic pull factor of centres of development. This pull has always been felt when new communication technologies spread, without local development based on these selfsame technologies and the activities they engender taking place.
Location of Digital Cities and Digital Regions Projects Map

Alternative Access:


click the image bellow to zoom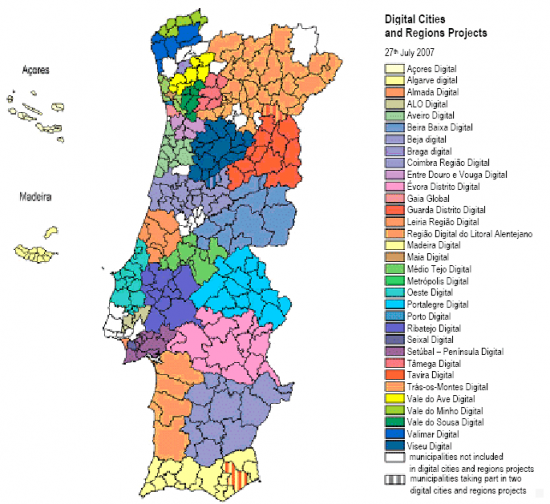 Source: UMIC - Knowledge Society Agency,PI.
Last updated ( 24/10/2011 )