Home

International Relations

News

Meeting of Ministers of Science, Technology and Higher Education of the CPLP
Meeting of Ministers of Science, Technology and Higher Education of the CPLP
- 28/08/2009

On August 29, 2009, the Ministers CPLP – Community of Portuguese Language Countries responsible for science and technology and for higher education met in Lisbon.
Portugal has the Presidency of the CPLP this year and prepared an agenda which includes the discussion of a Portuguese proposal to create a, in a completely innovative approach, a UNESCO Centre for advanced training in science within the institutions of the CPL (text of the declaration in Portuguese) , combining the high-level scientific training, namely through PhD programs, with the training for the social responsibility of scientists, the public communication of science, and integration in international networks and research programs, with the objective of facilitating the scientific development of the countries of origin and of combating the brain drain. Portugal ensures the launching and the early operation of this new center of distributed advanced scientific training, in cooperation with UNESCO and in combination with other CPLP countries.
The meeting of ministers of the CPLP also sought cooperation in the independent evaluation of institutions and higher education degree programs in the world Portuguese speaking space (text of declaration in Portuguese) .
Participants also made an assessment of the cooperation in science, technology and higher education within the CPLP, and explored new areas and forms of cooperation, the main ones expressed in the final declaration.
The President of the Knowledge Society Agency (UMIC) integrated the Portuguese delegation.
Photo of the delegations to the Meeting of Ministers of Science, Technology and Higher Education of the CPLP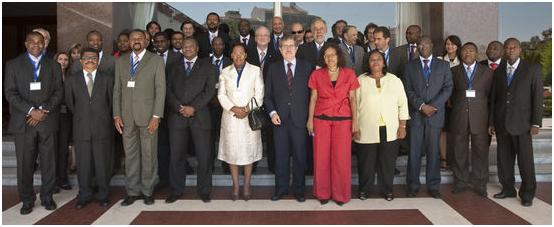 Last updated ( 16/07/2010 )